Take a Look
2012 Prayer Breakfast Speaker
Twelve years ago, Brandon Slay rose to worldwide acclaim by winning the Gold Medal in Freestyle Wrestling at the 2000 Olympic Games in Sydney, Australia.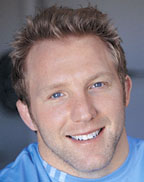 Two years prior, Brandon graduated from the University of Pennsylvania from the prestigious Wharton School of Business. Brandon was born and raised in Amarillo.
He now resides in Colorado Springs, CO, where he is the head wrestling coach at the Olympic Training Center.
For many years, Brandon attempted to accomplish his wrestling dreams without God, and he only got so far, but not far enough. In 1999, Brandon finished 6th in the U.S. Nationals by clinging to his own life and doing things his way. At this point, Brandon realized his life had no purpose. Only God could bless the desires of his heart.
At the end of 1999, he gave his life completely up to The Savior - Jesus Christ.
With his new spiritual strength, he was able to go from 6th in the U.S.A. in 1999 to 1st in the World in 2000.
Brandon's motto became "Do your best and let God take care of the rest!" He says, "If we are obedient and doing the natural, God will do the super if it's according to His Will."