Take a Look
2014 Prayer Breakfast Speaker
Judge Starr also serves on the faculty of Baylor Law School as The Louise L. Morrison Chair of Constitutional Law and teaches a seminar on current Constitutional issues. Judge Starr is a member of the Board of Directors for the National Association of Independent Colleges and Universities (NAICU) and currently serves as President of the Southern University Conference. In addition, he serves as a member of the Board of Trustees for the Baylor College of Medicine and the Board of Trustees for Baylor Scott & White Health.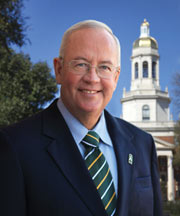 Judge Starr has argued 36 cases before the U.S. Supreme Court, including 25 cases during his service as Solicitor General of the United States from 1989-93. He also served as United States Circuit Judge for the District of Columbia Circuit from 1983 to 1989, as law clerk to Chief Justice Warren E. Burger from 1975 to 1977 and as law clerk to Fifth Circuit Judge David W. Dyer from 1973 to 1974. Starr was appointed to serve as Independent Counsel for five investigations, including Whitewater, from 1994 to 1999.
Prior to coming to Baylor, Judge Starr served for six years as The Duane and Kelly Roberts Dean and Professor of Law at Pepperdine, where he taught current constitutional issues and civil procedure. He has also been of counsel to the law firm of Kirkland & Ellis LLP, where he was a partner from 1993 to 2004, specializing in appellate work, antitrust, federal courts, federal jurisdiction and constitutional law. Judge Starr previously taught constitutional law as an adjunct professor at New York University School of Law and was a distinguished visiting professor at George Mason University School of Law and Chapman Law School.