Take a Look
2013 Prayer Breakfast Speaker
He is currently working on a new three-part series that will greatly expand that original work and present critical follow-on worldview material with the hope and prayer to see the Body of Christ vibrant and active, changing the world one neighbor at a time.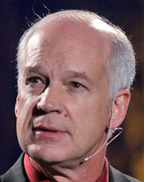 Dr. Tackett recently wrote and co-hosted the television series Cross Examine, presenting biblical worldview teaching through the use of real-life stories.
Dr. Tackett currently teaches biblical studies of social order at the Focus Leadership Institute, a semester program for college students. He served as the President of the Leadership Institute for five years as well as Executive Vice President of Focus on the Family.
Dr. Tackett is one of the founders of New Geneva Theological Seminary and a professor of numerous worldview courses. He continues to serve on their Board and as an adjunct professor. Dr. Tackett also teaches as an adjunct professor for the Alliance Defense Fund's Blackstone Fellowship and for Summit Ministries.