Take a Look
2010 Prayer Breakfast Speaker
Dr. Jerry White (Major General, USAF, Ret.)
In 1964 he received a Masters Degree in Astronautics from The Air Force Institute of Technology. He earned his Ph.D. in Astronautics from Purdue University in 1970.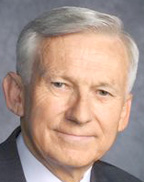 Following graduation from the University of Washington, General. White received a commission in the U.S. Air Force. During his 13-½ years of active duty he served in many capacities, including an assignment as a mission controller at Cape Kennedy during the height of the American space program.
He also was an associate professor of astronautics at the Air Force Academy in Colorado for six years and co-authored a nationally recognized textbook on astrodynamics. General White resigned from active service in 1973, and then spent 24 years in the Air Force Reserves in a number of assignments, retiring July 1, 1997 as a major general.
From 1992-1995 he served on the congressionally-mandated Reserve Forces Policy Board. He is a member of the board of the Air Force Association. In his last Reserve assignment, he served as mobilization assistant to the commander of Air Force Materiel Command, Wright-Patterson AFB, Ohio. Previously he served as mobilization assistant to the commanders of Electronic Systems Center and Aeronautical Systems Center. He also had assignments with what is now AF Space Command and the National Security Agency.
In two consecutive years, 1967 and 1968, Dr. White was awarded the George Washington Honor Medal from the Freedom Foundation. In 1990 he was awarded the Legion of Merit Medal and in 1997 he received the Defense Service Medal. More >